Welcome to W

illungaFestivals.com...

South of Adelaide in the centre of the Fleurieu Peninsula, South Australia, the Willunga Basin spreads from the hills to the sea. Willunga is a small country town, rich in history and filled with character and friendly people.

Enjoy the weekly and monthly markets, festivals, fairs, productions, exhibitions and concerts. Visit during our major events... the international Tour Down Under and the Adelaide Classic Car Rally; Willunga's major community event, the annual Willunga Almond Blossom Festival; and the national event, the Fleurieu Folk Festival. Stay a few days in the quality bed and breakfast accommodation and sit back in a cosy eatery and taste the local produce.

Nestled between and only minutes from National Parks in the hills and some of Australia's best swimming beaches, Willunga is a wonderful place to visit and WillungaFestivals.com welcomes you and hopes that this site prompts you to experience Willunga soon...

Willunga stats...

Population statistics (2006 Census)...

Willunga (State Suburb): 2258 (Willunga Urban Centre: 2104); Willunga South (State Suburb): 504; Whites Valley (State Suburb): 298

Approximate Willunga District: 3060

Taken from...

http://www.abs.gov.au/websitedbs/d3310114.nsf/home/census+data

Location... 46 kilometres (28.5 miles) or 43 minutes south of Adelaide, South Australia.

Main industry... viticulture, tourism, horticulture & agriculture and associated industry.

Fleuriu Folk Festival... 26-28 October, 2012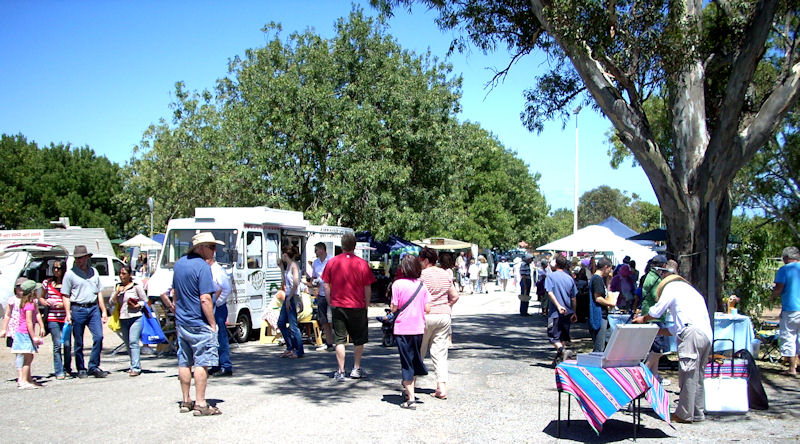 Willunga's Major Attractions...
Arguably Australia's best Farmers Market every Saturday

18 hole Golf Course, Willunga Walks, Bicycle/Walking Trail & Paintball

Fresh Bakery, Gourmet & Takeaway Food, Fine Wine, top Pubs & Gigs

10 minutes from Best Beaches; swimming, fishing and scuba diving

Annual Festivals & Car Races

Fleurieu Peninsula's quality monthly country market & artisans gallery

Quality Bed & Breakfast Accommodation

10 minutes from National Parks in the Lower Mount Lofty Ranges

Historic Aircraft Rides, Harley Tours, Vintage Bus tours, McLaren Vale Wine Region tours & Ural Sidecar Tours

Art Galleries, Museum, Slate Quarry, Cellar Doors & Providores and Plant Nurseries

A vibrant historic town in the heart of the Fleurieu Peninsula

Wedding, Anniversary & Special Birthday venues

Centrally located for day tours to the South Coast, Southern Adelaide Hills, and Adelaide's amazing mix of fashion shops, the arts, museums, parks, zoos, music and cinema

Close to Kangaroo Island Ferry

Outdoor living in our Mediterranean Climate
Your Website... Your Responsibility...
WillungaFestivals.com is Willunga's website. It is the responsibility of the businesses, services and community groups to keep information listed on this site up to date. The editors take no responsibility for incorrect data. Please email events@willungafestivals.com with your changes or additions.
Willunga has two official websites...
1. This pink site... WillungaFestivals.com... events and places to eat, visit & stay...
2. It's blue sister-site... WillungaSA.com... directories of businesses, services, community groups and sporting clubs, maps, emergency numbers & on-line news & tools...
3. Thankyou... for visiting these sites... take a look around... the massive amount of information... enjoy!
Important Willunga Media Notices...
Willunga...
history, culture and produce...
Best beaches - Aldinga, Sellicks & Maslin... Best foods - Willunga Farmers & Quarry Markets,
quality restaurants, various eateries & Willunga Bakery...
Best Views - the breathtaking Scenic Flights over the Willunga Basin from the Aldinga aerodrome...
Best wines - the famous McLaren Vale Wine Region... Best roses - one of the largest rose breeders in the world - Ross Roses...
Great National Parks and Picnic Grounds - in the Adelaide Ranges, Kuitpo Pine Forest, & Aldinga Scrub...
Great walks - historic Willunga & Linear Park to McLaren Vale... Great golf - Willunga 18 hole Golf Course...
Willunga and Willunga District... your quality accommodation, country hospitality and cultural events.
Willunga... food, art, drama, nurseries, exhibitions, music, markets, fun and accommodation...
Willunga... 45 minutes south of Adelaide, via the Southern Expressway
Willunga... McLaren Vale Wine Region
Willunga... 10 minutes from the sea
Willunga... 10 minutes from national parks
Willunga... Fleurieu Peninsula, South Australia
Willunga festivals
Willunga almonds
Willunga bed and breakfast
Willunga Rose Garden
Willunga markets
Willunga walks
Willunga wine
Willunga plant nurseries
Willunga art
Willunga romantic getaway
Willunga slate
Willunga Recreation Park
Willunga olives
Willunga restaurants
Willunga golf links
Willunga accommodation
Willunga Stage, Tour Down Under
Willunga Almond Blossom Festival
Fleurieu Folk Festival
Willunga Olive and Wine Fiesta
Willunga Hill Classic Adelaide Car Rally
Willunga Christmas Tree Festival
Willunga Twilight Christmas Concert
Willunga...
The place for YOU to visit, eat and stay a few days...
Treat yourself to a getaway...
E&OE
No part of this website may be copied in any medium except as is allowed by copyright law.
Copyright 2004, 2005, 2006, 2007, 2008, 2009, 2010, 2011, 2012 by WillungaMedia.com, Box 319, Willunga, SA 5172.